Training women in roofing and other trades can help strengthen the US economy by addressing the country's massive skilled labor shortage. On an individual level, skilled trade training can help improve women's lives.
"I was stuck doing a nine-to-five. I wasn't saving, I was just trying to survive," says Shakyra Worley. "One day, I had an epiphany: I need more for myself. I need to get out from being stuck."
So, Shakyra enrolled in Edison Job Corps in New Jersey—a free, nationwide career training and education program for 16- through 24-year-olds—to learn carpentry. Through the Edison Job Corps program, she participated in the GAF Roofing Academy and learned the necessary skills to enter into the roofing trade.
Learning a trade has helped Shakyra face her goals and challenges. She says it's also helped her be more confident, giving her life "more 'main character' energy."
More Women Are Needed in the Industry
The construction industry will be short 546 000 workers in 2023. The GAF Roofing Academy—started in January 2020—aims to address this challenge.
"We're training people from groups who typically wouldn't be in the industry to come in and fill the labor need," says Kimberly Santiago, training manager for GAF Roofing Academy. To date, more than 2 000 roofing students have been trained, with a 60 % job placement rate after graduation.
Increasing the number of women in roofing—a long-time male-dominated industry—is a goal for GAF. Women account for 46,8 % of the US labor force, according to the US Department of Labor, but Kimberly notes only 3 % of roofers are women. In contrast, "last year, women made up 13 % of the Roofing Academy participants," she says. "When we bring strong, capable women into roofing, we diversify the field, bring different perspectives, and further the industry as a whole."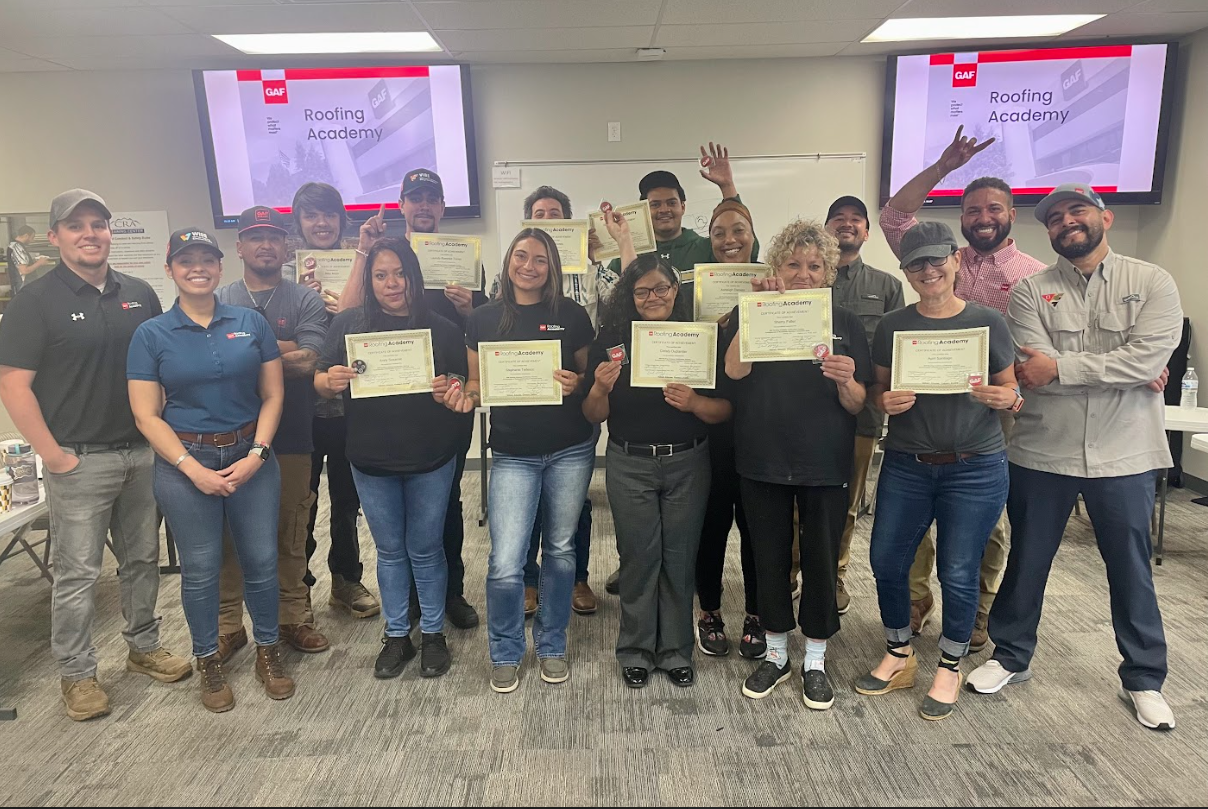 Women are more than capable to handle traditionally male jobs. "I've had plenty of people who thought I wouldn't be involved in a trade with hard labor," says Roz Jones, a carpentry student at Edison Job Corps and recent GAF Roofing Academy graduate. "I'm able to tell them it comes to me naturally and for me, it's easy. [Learning a trade] makes me happy, and I think it motivates others to do something out of their comfort zone."
Roofing Careers Benefit Women
Learning a skilled trade like roofing can provide women with long-term, reliable careers and opportunities for growth. Skilled trades pay well and provide job security since they're in high demand. This is important since 40,5 % of working women are the primary or co-breadwinner for their families, reports the US Department of Labor. Plus, learning a trade often fosters personal growth in addition to professional opportunities.
Professional Growth
The free GAF Roofing Academy program helps participants—especially those from underrepresented or disadvantaged groups—build the necessary skills for an entry-level position in roofing. The program also helps with job placement. GAF Roofing Academy graduates can "work as installers, in sales, in solar integration, even in commercial installation," Kimberly explains.
"Learning the roofing trade adds another tool to my toolbox," Shakyra notes. "Being able to protect someone's home means keeping them safe as well as making their home an actual home."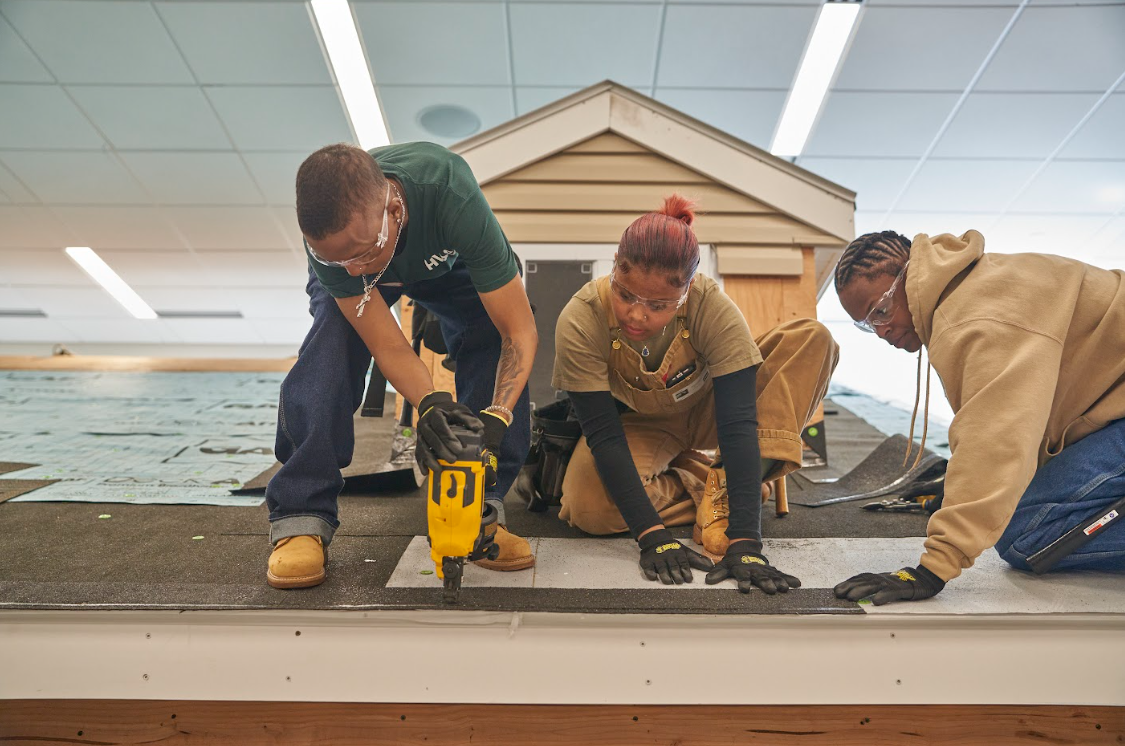 GAF Roofing Academy has several partnerships, including with Edison Job Corps to recruit participants as students. "Job Corps provides young people, who might not otherwise have had the opportunity, to get into trades and higher education outside of college," says Lori Blake, career technical training manager at the organization. "We look to students in inner city and rural areas that don't have the opportunity to go to school. At Job Corps, they get job training, and they get it for free."
The partnership is a fantastic fit. "We've had several Job Corps students graduate well prepared from GAF Roofing Academy, and they've been placed in roofing construction companies," Lori continues. "They come back and talk to currently enrolled Edison students about the GAF Roofing Academy, so those students will be inspired to get involved in roofing as well."
"Opportunity led me to the Roofing Academy course," Roz says. "Building homes was one of the things I first thought about when entering Edison Job Corps. I'm excited to have roofing as a skill to help me build houses-not only for my family but for thousands of other families as well."
Personal Growth
In addition to creating career opportunities, learning a skilled trade can bolster confidence and build leadership skills, as it did for Roz.
"When I was a teen, I struggled with mental health. I actually never thought I would make it this far. People told me a lot of things I couldn't do, and I believed them. It held me back from a lot," Roz reflects.
Enrolling in Edison Job Corps and learning a trade "was the first time I tried something new in my life," she says. At first, Roz was shy, but then, "I paved my own way and built my confidence. Being around the right people motivates me to be better. And it shows my family I have the capability to pull through and look out for them, too."
Women Belong in the Roofing Industry
Being a woman in a male-dominated industry "can be frustrating at first, but find your balance and where you fit in. There's nothing wrong with learning something new every day." The challenge of breaking into a male-dominated industry is one reason GAF Roofing Academy offers all-female roofing training courses taught by instructors like Kimberly.
"Having a female instructor was a great asset," says Shakyra. "It gave me more comfort in expressing myself because of Kimberly expressing her own flaws and trials she's faced in the industry."
As a testament to her passion for the program, Kimberly became a GAF Roofing Academy instructor because she was a Roofing Academy student herself. "Being a Roofing Academy instructor brings everything I love together in one place: teaching, roofing, and giving back," she says.
Kimberly, who holds a post-master's graduate degree in education, attended Roofing Academy courses in residential installation, commercial installation, solar integration, and in-home sales to help pursue a career in roofing. The skills and experiences she gained in the program helped give her the confidence and knowledge to start her own roofing company. "Prior to becoming a GAF Roofing Academy Instructor last year, my roofing team and I helped install or repair over 100 roofs," Kimberly shares.
Women in Roofing Can Make a Difference
At the core of the Roofing Academy is building more resilient communities. Teachers get to help a new generation of roofers, students can pass on what they learn, GAF helps support graduates with job placement, and new roofers are able to make a tangible difference in the world.
"What I really like about the GAF Roofing Academy is that it supports people of all backgrounds and opens the door for them into a career in roofing," Kimberly says. In addition to the all-female training program, the Roofing Academy also trains under- and unemployed people, veterans, active duty transitioning military, at-risk and opportunity youth, and formerly and currently incarcerated individuals. "A diverse workforce benefits the industry," Kimberly explains.
That spirit of providing opportunity is what can change the world. "It's important for me to protect people's homes," Roz notes. "When I see people out on the streets, it hurts my heart. I want people to feel safe. I think about how I can help. Being able to make sure there are enough homes for everyone and people have a roof over their heads, everybody wants that."
Taking the First Step toward a New Career
If you're considering a career in roofing, "go for it," Kimberly encourages. "If it's in your heart, and you have the passion and the drive, it's a very rewarding career. Once you get into roofing you never go back."
For those worried about breaking into a new field, "never let someone tell you that you can't do it," Roz says. "It's all in the mindset and the way that you lead yourself. Just show people your full potential, and you'll never stop being great."
Want to help build the next generation of roofers with GAF? Explore the curriculum and opportunities offered through GAF Roofing Academy.