Around the globe, excess heat collects in urban areas and can contribute to increased heat-related death and illness, diminished quality of life, and reduced economic opportunities. Such areas are known as "urban heat islands." Fortunately, cooling strategies are now available and being used in initiatives like the GAF Cool Community project to help mitigate urban heat island effects. Such cooling strategies are supported by products such as such as GAF StreetBond® pavement coatings with Invisible Shade™ — named by TIME magazine as one of its Best Inventions of 2022.

Understanding Heat Islands
You can envision urban heat islands as heat-saturated sponges spread out across vast, shimmering urban spaces. These "islands" tend to have minimal shady vegetation, so their blacktop and hard surfaces — such as pavements, parking lots, concrete recreation areas, and roofs — absorb and retain the sun's heat well into the evening. HEAT.gov explains that temperatures in urban heat islands can be 15–20°F hotter than in equivalent vegetated areas. In technical terms, darker surfaces have a low albedo effect — that is, the ability to reflect and diffuse the sun's rays back to the upper atmosphere. This means highly reflective, snow-covered regions such as the Arctic have high albedo, while dark, tarmac-covered cities have low albedo, which leads to increased heat retention.
Densely packed buildings compound a low albedo effect by preventing cooling breezes from lowering temperatures. And to top it all off, heat islands can trap waste heat from cars, air conditioners, and other heat-emitting devices - exacerbating the effects. In terms of detrimental environmental impacts, this is the perfect, overheated, storm.
L.A.'s Pacoima neighborhood is one example of a community hit hard by heat. Undoubtedly a true urban heat island, it is consistently one of the city's hottest areas: one summer afternoon, Bloomberg News reported a pavement temperature of 127°F at noon — which rose to 141,8°F just one hour later. In addition, many of Pacoima's residents are in lower-income brackets and living in spaces that have not been fully optimized to mitigate heat island effects. According to Miguel Angel Luna, president of Urban Semillas, Pacoima residents are right "on the front line of climate change." Urban Semillas is an L.A.-based social and environmental justice consultancy working with grassroots organizations such as Pacoima Beautiful on the GAF Cool Community Project in the area.
Breaking Down Why Urban Heat Islands Matter
More than 80 % of Americans live in urban areas, where urban heat islands are most prevalent. Extreme heat has been the greatest weather-related cause of death in the US for the last 30 years, according to Forbes. Roughly 12 000 Americans died prematurely from extreme heat between 2010 and 2020, with Native American and Black communities disproportionately affected.
And within those urban areas, it is the lower-income neighborhoods - often with fewer trees or other cooling interventions - that tend to be hardest hit. For example, Bloomberg noted that during days of extreme temperatures, Pacoima had seven times the number of excess heat emergency room visits (19 000 between 2009 and 2018) compared with nearby Santa Monica in L.A., an affluent community of similar size.
Economic sectors, such as tourism and local business, also feel the urban heat island effect. Pacoima food truck vendor Jennifer Ramirez can't start work until outdoor and street temperatures have cooled slightly. Otherwise, she explained to Bloomberg News, her food truck generator could blow out combating the oppressive daytime heat. As Melanie Torres of Pacoima Beautiful observes, Pacoima's built-up, sparsely vegetated streets and parks don't "give us the chance to experience fresh weather, or cool weather at all."
Shifting from Urban Heat Islands to Cool Communities

The GAF Cool Community project in Pacoima addresses the complex issue of urban heating with a beautifully simple solution. Take a hot, sun-exposed community with an abundance of heat-retaining hard surfaces. Then, apply colorful, solar-reflective coating to its streets and public hardscaping. The result? Cooler pavement temperatures.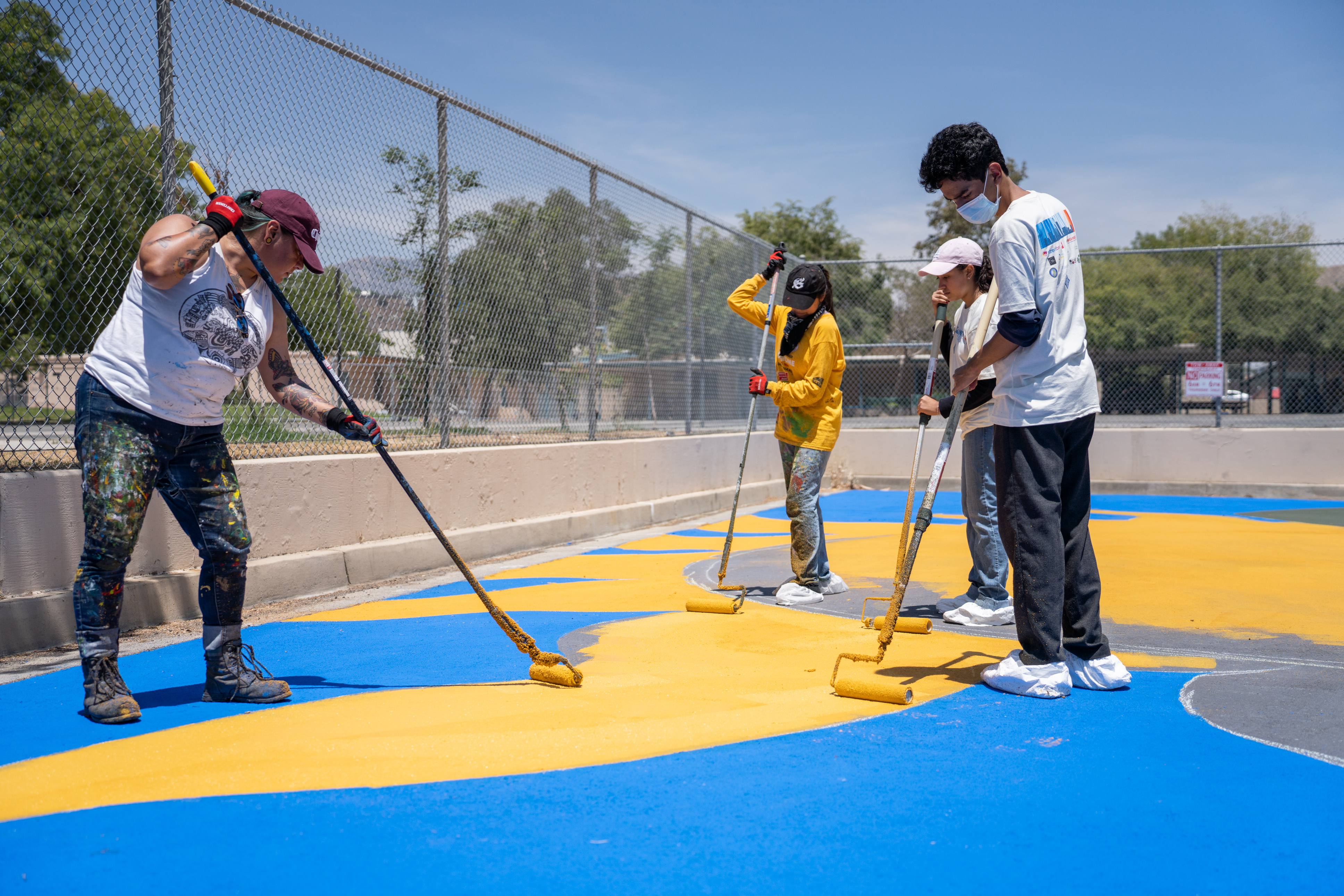 The solar reflective coating — StreetBond pavement coatings with Invisible Shade™ technology — can help reduce surface temperatures by between 10°–12°F in the heat of the day. This could ultimately reduce ambient temperatures around Pacoima, explained Jeff Terry, Vice President of Sustainability at GAF, to Forbes.
Making Progress on Cooling Pacoima
Approximately a million square feet have been coated with StreetBond® solar-reflective epoxy acrylic coating over a 10-block area. An attractive, colorful mural of solar-reflective materials covers the park area, and blue-and-white StreetBond® brightens the public basketball court. The formerly dark streets are now a cool grey-blue.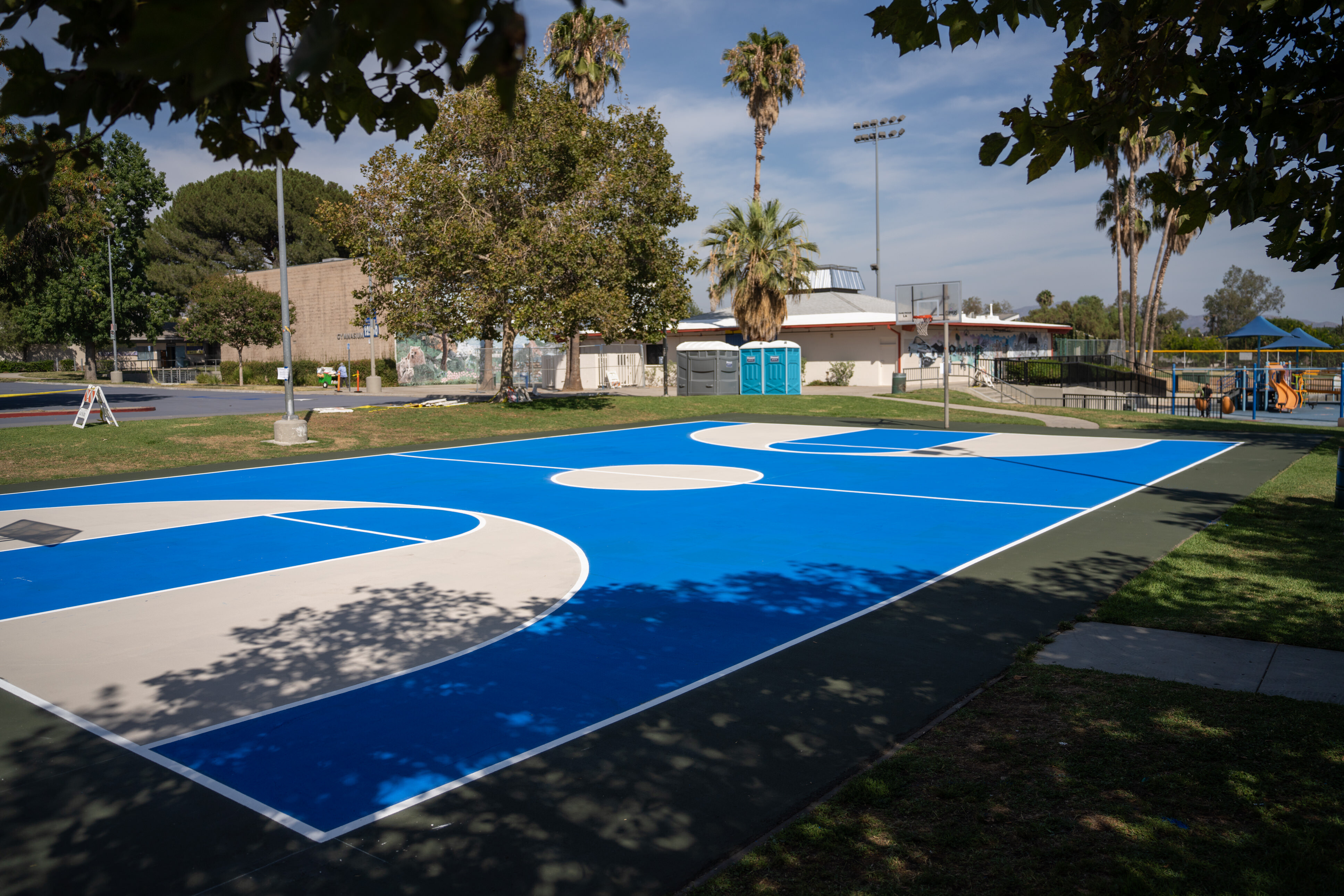 Over 12 months, the project will track pavement and air temperatures using sensors, satellite technology, and drones. The second project phase may also include cool roofs. The goal of the project is to determine whether these cooling strategies can help reduce overall ambient temperatures outdoors and offset high indoor temperatures caused by a lack of air conditioning in the Pacoima community.
GAF and its partners aim to improve the lives of the roughly 2 000 people in the half-mile project range, plus have the solutions — including what Jeff Terry sees as a "complete community approach" that involves residents and local organizations — which serves as a model for cities around the world. In addition to urban beautification and heat reduction, GAF StreetBond® can help preserve pavement. In turn, longer-lasting pavement can save cities time, money, and resources and gives them another tool to help mitigate the impacts of climate change.
Starting at Home
Whether urban or rural, all communities can use technology to help reduce indoor and outdoor temperatures. Some cooling strategies that can be effective across cities or in your own home include:
Cool surfaces: Surfaces treated with solar-reflective coatings can help reduce heat absorption and lower street temperatures. Plus, products such as StreetBond® come in a range of colors to beautify urban areas.
Solar shingles: Business and residential roofs can benefit from solar shingles such as the Timberline Solar™ roofing system. Solar shingles generate solar energy, helping to reduce reliance on overburdened energy grids and lower utility bills — all while maintaining the streamlined look of an architectural shingle roof.*
Cool roofs: Solar reflective shingles like Timberline® CS Shingles may save homeowners an average of 7 %–15 % on their total cooling costs.** This cooling technology minimizes a building's solar heat gain by reflecting incoming sun rays and re-emitting the absorbed energy.
Ready to get started in your neighborhood? Check out the inspiring community improvement projects at streetbond.com. (A division of GAF, StreetBond® offers the same quality and reliability customers have come to rely on from North America's largest roofing and waterproofing manufacturer.)
* Savings will vary and are not guaranteed. Incentives and eligibility requirements vary and availability is not guaranteed.
** Potential for savings depends on various factors including, but not limited to, climate zone, utility rates, location, and HVAC equipment efficiency.