The GAF manufacturing plant in Tuscaloosa, Alabama sits just a half mile away from Stillman College, a historically Black university with a rich history in the area. The school was first formed as the Tuscaloosa Institute in 1875 by the Presbyterian Church to serve as a ministerial training academy for Black men. It was renamed in 1899 — after the director whose idea it was to found the academy — Rev. Dr. Charles Allen Stillman.
Winsborough Hall - built in 1922 as part of an effort to provide scholarly opportunities for future Black women leaders - is the oldest remaining building in the Stillman Historic District. It once served as housing for female students on the Stillman campus, but for the last 20 years has remained empty and fallen into disrepair. The century-old building is positioned along Stillman Boulevard and GAF Plant Manager Katrina Baker drives by it each day on her way to work. When she noticed blue tarps covering large portions of the roof, it broke her heart and she knew she needed to help.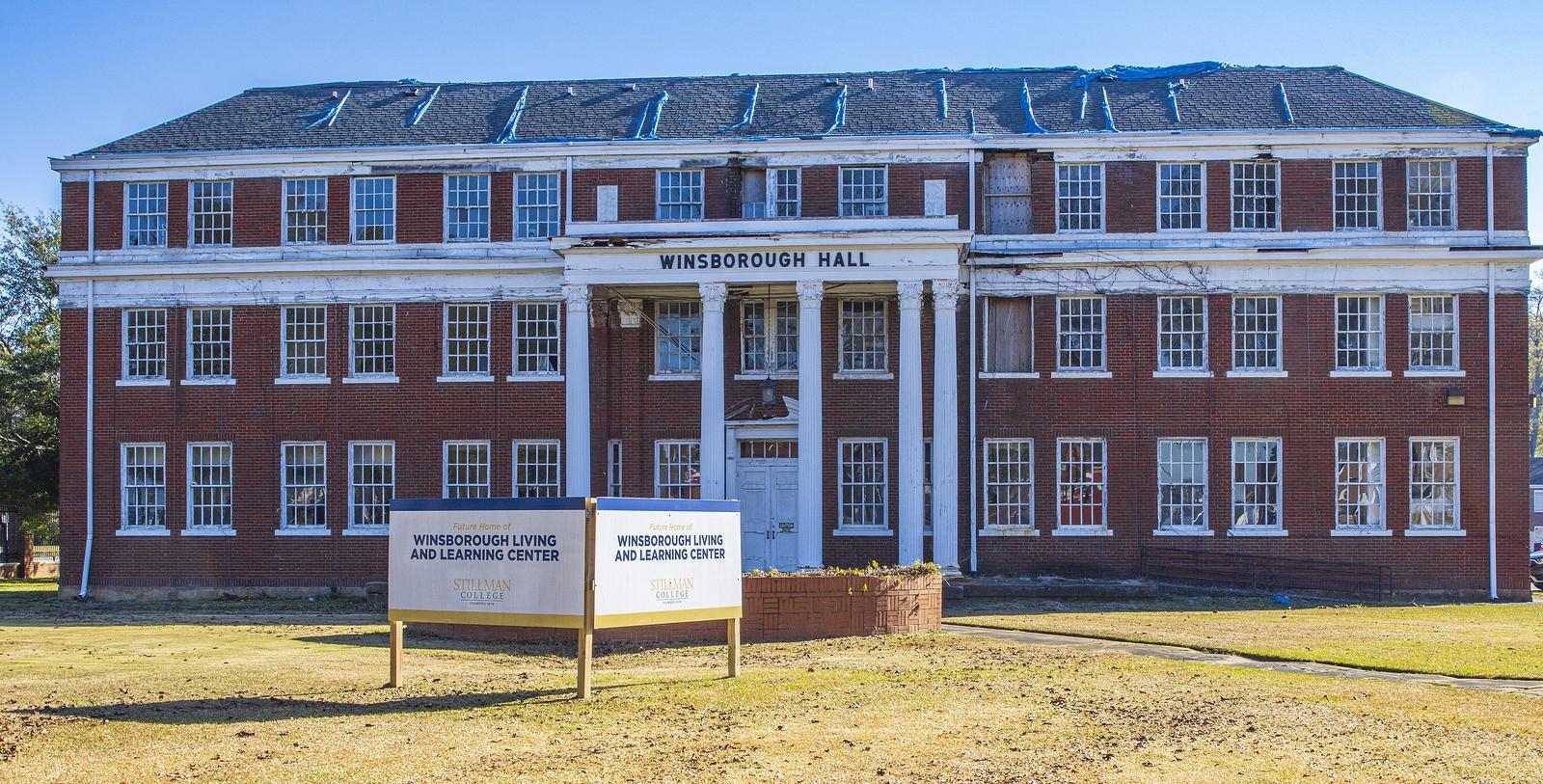 Supporting Community Resiliency through Shelter
Baker said that the GAF Community Matters initiative has empowered her to give back to the local community in ways that will support its resiliency by meeting fundamental needs — among them shelter and education.
She also wanted to help partly because of one very direct connection between the GAF Tuscaloosa plant and the school. GAF's VP of Operations Culture and Engagement, Kelvin Thomas, earned his degree at Stillman while working in the plant. "He worked his way through school and then worked here in a salary position after graduating, and now he's a senior leader," Baker explains. "We love that story, and the fact that he graduated from Stillman and is still connected with Stillman College through a scholarship supported by the Thomas family - it's just wonderful. It feels so good to be a part of it."
Impact on the Community
Baker says she was also inspired to help as a way of enhancing and celebrating the capacity that Stillman College has to impact the Tuscaloosa community now and long into the future: "The way I think about education is that it changes your life. It changes your path, your trajectory," she says. "The Stillman values and beliefs have a lot to do with giving back and paying it forward, so having Stillman here in Tuscaloosa and in our direct community is a huge positive."
Plans for Winsborough Hall will give it another chance to enrich life for local residents. Stillman College President Dr. Cynthia Warrick says they have plans to convert "this former female dormitory into a 'Living & Learning Center,' with apartments for senior citizens who will benefit from interacting with students, faculty, and staff in our unique social and cultural learning environment."
Supporting Neighbors and Establishing Lasting Friendships
The GAF Tuscaloosa plant's involvement in the local community goes beyond Stillman College. The team there has also forged a close relationship with the local Habitat for Humanity branch, which has opened great opportunities to restore and rebuild many local homes. One example is the Blitz Build, a project that brought team members together to build a home for a local woman and her granddaughter in an expedited timeframe. In addition, Baker says that she supports GAF's involvement in all aspects of the Tuscaloosa community — providing support for everything from local police and fire departments to nearby schools. Through lunches and other donations, GAF employees get to know people from the wider locality, becoming active friends and supporters as well as neighbors.
Learn more about the GAF commitment to the communities where its employees live and work by visiting the Community Matters page.